One of the most important things in selling your home is making it inviting, open & contemporary. For this, there are many tastes and opions, so I thought I would share one creative front door decor idea I myself have come to admire.
There are two spaces within the home that are incredibly easy to decorate, can change with the seasons, and make a huge impact. The first space is your mantel and the second space is your front door!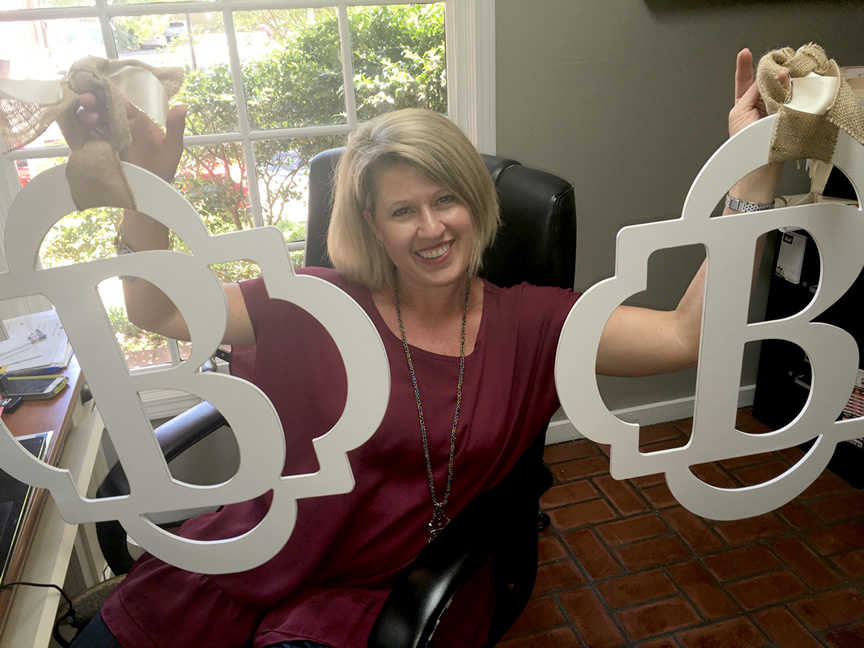 A very enjoyable thing about showing many homes on a regular basis, is seeing the newest creative trends! One that's recently caught my eye, so much-so that I purchased a new set is hanging wooden decorative initials as a door hanger decor.
You can welcome your guests with a classic, yet fashionable wooden decorative monogram-styled lettering in creative design patterns. These were purchased at a great Fairhope and Daphne local business, Objects. They have one shop downtown Fairhope, (right across the street from Paige & Pallette) & another in the Malbis-area of Daphne's 'Eastern Shore Centre' (caddy-corner to Tide Pride/Tiger Pride store). Both locations showcase local artists from all around the Eastern Shore. Creations range from wall and door decor to custom pottery, embroidered clothes, bathroom and kitchen linens, wall-art & much more! It's always great to support local artists and businesses + may help home-buyers get a sense of the local culture, making your home for sale in Daphne, Fairhope, or Spanish Fort stand-out in their memory about the others!
For this & other staging or home-selling preparation tips, follow our real estate facebook announcements page, or call any time - we'd love to include your recommendations in our future posts and/or be glad to help with any advice or recommendations of any trends we've seen lately.